Roosevelt
Roosevelt, New Mexico was located in Quay County four miles SW of McAlister, NM near the Roosevelt County line. Roosevelt was founded in 1906 when a townsite was laid out by some realtors who were trying to sell lots. The townsite was bought by Sam Noffsker in 1911. By then there was only a store, a post office operated by a Mr. Clinton Morris, a two story hotel, a few houses, a cemetery and a school. The school consolidated with House in 1919 and the post Office was closed. Postal records show a Roosevelt Post Office 1906 – 1919.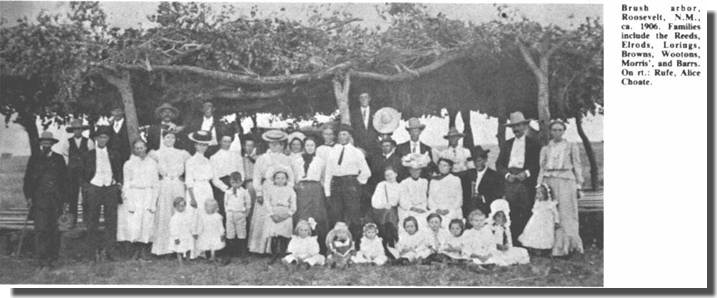 Brush arbor at Roosevelt ca. 1906. Families include the Reeds, Elronds, Lorings, Browns, Wootons, Morris and Barrs. Rufe and Alice Choate on right.
All of the Gilliam pictures below were taken before 1909.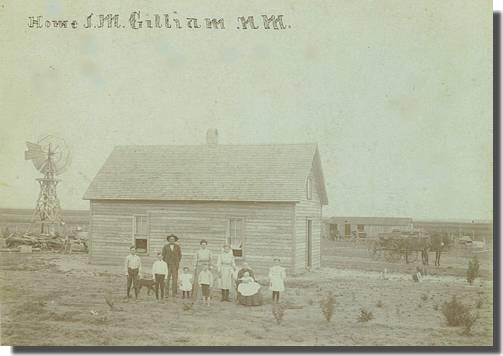 J. M. Gilliam home at Roosevelt. Picture from Ruby Adams.
Following is written on back of the picture:
James "Jim" and Minnie Gillam in the alfalfa field east of large elm tree. I Have a bunch of Alfalfa on my hands. See how tall it is. The light streaks Are the wheat fields. The trees north of that are the trees along the river. These hills are the bluffs on the north side of the river. Picture from Ruby.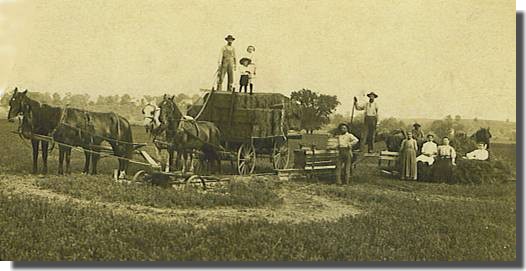 Following is written on back of picture:
This is taken in the field where they are bringing the hay to the bailer and Jim is hauling it to the train. Jim, Raymond, Ruth, the man working for us, Jim's brother Edd, Minnies mother Susan Seale Jeter, colored man, Minnie, Mary, and Maude are the people left to right. Picture from Ruby Adams.